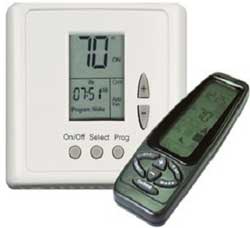 24VAC, wall-mount
thermostat, with 5-1-1 weekly
program, Freeze Protection
and 2 Cooling stages for
multiple HVAC configurations


The ETN24-SUPER-FP-PROG-F is an aesthetic, easy to use thermostat for commercial and residential applications.
It can control a large variety of HVAC systems with either Heat/Cool or Heat Pump configurations and has 2 Cooling stages.
Its 5-1-1 program, with 4 x start time per day is easy to use and can provide 24-hour comfort as well as energy savings.
Overall, the ETN24-SUPER-FP-PROG-F is an attractive, wall mount thermostat with a large, easy to read display.
Features
• Wall mount, 24VAC thermostat
• DIP switch selectable configurations:
• Heat/Cool or Heat Pump system
• Electric or Oil/Gas heat system
• Heat Pump in Cool or Heat
• 5-1-1 programmable – 4 x start time per day
• Modes: Cool, Heat, Auto Mode, Fan Only
• Auto-change-over mode – selectable
• 1 fan speed
• Freeze protection – adjustable
• Set point limits- 41…90°F
• Energy saving thermostat
• Lock / Unlock thermostat buttons
• Temp. scale – °F
• 3 minutes compressor delay – dip switch selectable
• Internal or external sensor – dip switch selectable
• Switching between programmable / non-programmable configuration
• External sensor- option
• IR remote control – option
• Real Time Clock
• Offset – for temp. reading adjustment – ±6°F