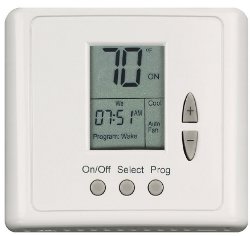 24VAC Surface Mount Thermostat With FanCycler® Applications

DOWNLOADS

ERV-24 Datasheet
ERV-24 Operating Manual
ERV-24 Owner's Manual
Technician Settings/Advanced Features
Quick Start Guide
The ERV-24 brings you the cutting edge in technology into an extremely simple 24Vac thermostat. FanCycler® methods are incorporated into the attractive, surface mounted thermostat which has a large, easy-to-read, display.
The ERV-24-HC11 thermostat with FanCycler® has enhanced features to compliment controlled mechanical ventilation systems. These features were configured by your installing technician. A brief summary description follows:
FAN CYCLING CONFIGURATION — The purpose of fan cycling is to assure that the central air handler fan will run enough to distribute ventilation air and evenly mix air throughout the house when there is no demand for heating or cooling. Rather than operate the fan continuously or by a simple timer that can't consider prior operation, the FanCycler® method saves energy and wear and tear on equipment by only operating the fan if it hasn't already operated enough.
VENTILATION DAMPER CYCLING — The purpose of cycling the ventilation damper is to limit the possibility of over-ventilating during peak-load conditions which could cause unnecessary space conditioning energy consumption. If the fan stays on longer than needed for the introduction of ventilation air, the damper will automatically close.
Features
Main Supply 24Vac
Fresh Air Damper output – 24Vac – Power Open / Spring close
Remote sensor connection or Average option
Offset for temperature reading adjustment
Lock buttons (Tamper proof)
Data Storage – Diagnostics
FanCycler® build in
DIP Switch/Jumper selection
Programmable or non Programmable
Auto Change-Over or Manual Heat-Cool
Compressor 3 minute delay
Fan Mode (Electric or Oil/Gas)