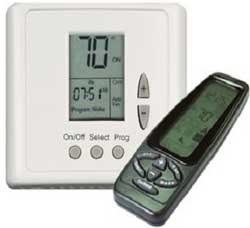 24VAC, wall-mount thermostat,
with Heat Pump configuration,
5-1-1 weekly program, Freeze
Protection and 2 Fan Speeds


The ETN24-HP21-2S-FP-PROG-F is a stylish, wall-mount thermostat suitable for commercial and residential applications. It offers Heat Pump configuration for Cool & Heat and other useful features, such as Freeze Protection to ensure HVAC system works well in cold temperature.
Its 5-1-1 program, with 4 periods (Set Cool/Set Heat) per day, is easy to use and can provide 24-hour comfort as well as energy savings.
Overall, the ETN24-HP21-2S-FP-PROG-F is an attractive wall mount thermostat with a large and easy to read display.
Features
• Wall mount, 24VAC thermostat
• DIP switch selectable options:
• Heat Pump in Cool or Heat
• Internal or external sensor
• 3 minute compressor delay
• 5-1-1 programmable; 4 periods per day, each with Set Heat and Set Cool
• Freeze Protection
• Offset – for temperature reading adjustment ±6°
• Modes – Cool, Heat, Emergency Heat, Auto, Fan Only
• 2 fan speeds
• Auto-Fan – option
• External sensor- option
• Lock thermostat pushbuttons – option
• Temperature scale – °F
• Set points limits – 41…90 °F
• Switching between programmable or non-programmable state
• Timer – Program or Non-program state
• IR remote control- option
• AM/PM, real time clock