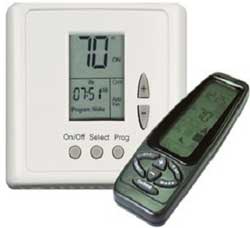 24VAC, wall-mount
thermostat, with 5-1-1 weekly
program, Freeze Protection
and 2 Fan Speed, for multiple
HVAC configurations


The ETN24-SUPER-2S-FP-PROG-F is an aesthetic, easy to use thermostat for commercial and residential applications.
It can control a large variety of HVAC systems with either Heat/Cool or Heat Pump configurations and offers numerous selectable or user adjustable features, such as Freeze Protection to protect system from freezing, Offset for temperature reading adjustment or an option for 3 minute compressor delay.
Its 5-1-1 program, with 4 x start time/stop time per day is easy to use and can provide 24-hour comfort as well as energy savings.
Overall, the ETN24-SUPER-2S-FP-PROG-F is an attractive, wall mount thermostat with a large, easy to read display.
Features
• Wall mount, 24VAC thermostat
• DIP switch selectable configurations:
• Heat/Cool or Heat Pump system
• Electric or Oil/Gas heat system
• Heat Pump in Cool or Heat
• 5-1-1 programmable – 4 x start time / stop time per day
• Modes: Cool, Heat, Auto Mode, Fan Only
• Auto-Change-over mode – selectable
• 2 fan speed + Auto Speed
• Freeze protection – adjustable Set point limits-41…90°F
• Energy saving thermostat
• Lock / Unlock thermostat buttons
• Temp. scale – °F
• 3 minute compressor delay – dip switch selectable
• Internal or external sensor – dip switch selectable
• Switching between programmable / non-programmable configuration
• External sensor- option
• IR remote control – option
• Real Time Clock
• Offset – for temp. reading adjustment – ±6°F