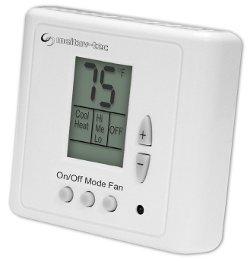 Wall-mount, 24VAC thermostats, for all Fan-Coil Proportional Valve applications.
Proportional Output Thermostat Models Wiring Diagrams
The proportional series thermostats are designed to control a wide variety of Fan-Coil applications, with Proportional Valves configurations.
Proportional thermostats suggest different proportional outputs such as 0-10VDC or 2-10VDC, 3 wire (Open-Common-Close), Various Fan Speed control combined with additional Energy Saving Algorithms and Logic.
Features
Wall-mount, 24VAC thermostats
Fan-Coil supported configurations:

4 pipe – 2 valves
2 pipe – 1 valve
No valve

Valves Output types:

Proportional outputs 0-10VDC or 2-10VDC
3 wire (Open, Common, Close) – Adjustable motor

Open/Close time (10 to 400 seconds)
1,2 or 3 Fan speeds
Modes: Cool/Heat/Auto, Cool/Heat/Fan, Cool Only
Auto Fan Speed – Fan speed will be automatically increased or decreased to achieve user comfort together with Fast Cool/Heat.
External Temperature Sensor – optional
Auto-change-over between Cool/Heat by T2 sensor (in
2 pipe systems)
°F or °C Temperature Scale
Cool and Heat adjustable temperature limits
Offset – for temperature reading adjustment
IR Remote Control – optional
Daily, digital Timer – optimal when you are asleep or
away
Buttons Lock – optional
Energy saving – cost effective, environmentally friendly
thermostat
Fan Coil Thermostats
Fan coil thermostats are generally found in condominiums, hotels and high rise apartment buildings and have the ability to control a variety of fan speeds.