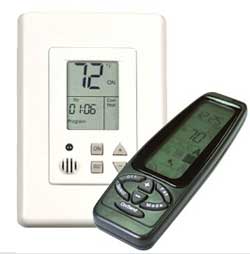 Flush mount, 24VAC thermostat,
5-1-1 days programmable, with
various selectable A/C
configurations


The FMT24-SUPER-PROG is a stylish thermostat suitable for commercial and residential applications. It can control a large variety of HVAC systems with either Heat / Cool or Heat Pump configurations and offers a selectable number of heating and cooling stages.
Its 5-1-1 program, with 4 periods (Set Cool / Set Heat) per day, is easy to use and can provide 24-hour comfort as well as energy savings.
Overall, the FMT24-SUPER-PROG is an attractive thermostat, with a large easy to read display.
Features
• Flush mount, 24VAC thermostat
• Dip switch selectable configurations:
• Heat/Cool or Heat Pump system
• Electric or oil/gas heat system
• Heat Pump in Cool or Heat
• 5-1-1 programmable; 4 periods per day, each with Set Heat and Set Cool
• 1 Fan Speed
• Auto-Change-Over mode option
• Energy saving thermostat
• Offset – for temperature reading adjustment
• 2 set points (Cool & Heat)
• Set point limits – password protected
• External sensor – option
• Lock – Unlock buttons function
• IR remote control – option
• AM/PM clock