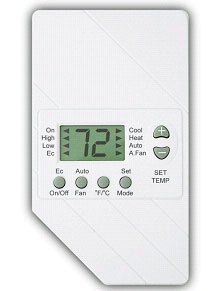 Wall mount, 24VAC thermostat,
Heat-Pump or Heat Cool
configuration, with up to 3 stages for
Heat and 2 stages for Cool

DOWNLOADS

ERT24-SUPER Specifications


The ERT24-Super is an energy saving thermostat suitable for commercial and residential applications. It can control a large variety of HVAC systems with either Heat/Cool or Heat Pump configurations.
This thermostat offers 3 stages for Heat and 2 stages for Cool. In addition, it offers Economy mode for maximum energy saving with easy temperature setting for Economy.
Its easy to change configuration, using only jumpers, makes the ERT24-SUPER the perfect solution for basic and easy climate control.
Features
• Main supply- 24Vac
• Modes: Cool /Heat /Auto-Fan/Economy
• System configuration – Heat Pump or Heat/Cool – jumper selectable
• Multiple Heating (3) & Cooling (2) stages
• Economy mode – easy temperature setting for Cool (70°-88°F) and Heat (50°-69°F)
• Temperature limits for Cool & Heat (50°..88°F)
• Electric or Oil/Gas heater is selectable in Heat/Cool configuration
• Heat Pump in Cool or Heat is selectable in HP configuration
• Internal / External sensor- jumper selectable
• 3 minute compressor delay – jumper selectable
• Return Air Sensor – optional
• Alarm – dry contact (normally open)
• 1 fan speed
• Energy Saving – Cost efficient, environmental friendly thermostat
• Large, easy to read display