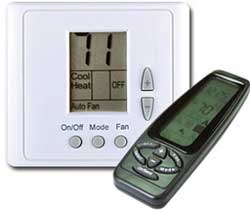 Wall mount, 24VAC thermostat
Heat Pump configuration,
2 fan speeds, Freeze Protection
and IR option
The ETN24-HP11-2S-FP-IR thermostat is a fully featured, stylish thermostat, suitable for light commercial, residential or apartment applications.
It has Heat Pump configuration for Heat and Cool and 2 fan speed control. It offers Freeze Protection to protect system from freezing in cold countries. In addition, it has Economy mode for maximum energy saving and adjustable temperature limits. It also offers various options, dip switch selectable, such as compressor delay, External / Internal sensor and more.
The ETN24-HP11-2S-FP-IR is an attractive, wall mount thermostat with an IR option and a large, easy to read display.
Features
• Wall mount, 24VAC thermostat
• Heat Pump Configuration
• 2 Fan Speeds
• Dip switch selectable options:
– External / Internal sensor
– T.ambient & T.set on LCD/ Only T.set
– Heat Pump in Cool / Heat Pump in Heat
• 3 minute compressor delay
• Freeze Protection alarm – if T. ambient <45°F , thermostat switches to Heat mode
• Economy mode
• Adjustable Temperature limits 50…95°F in Heat and Cool
• Temperature offset – adjustable (±6°F)
• Fahrenheit or Celsius temperature display
• Fan On or Auto-Fan – selectable
• Lock thermostat pushbuttons – option
• Remote Control
• Timer
• Energy saving – cost efficient, environmental friendly thermostat