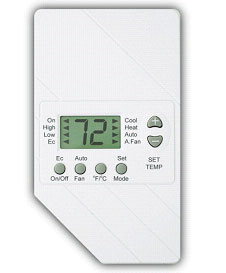 Wall mount, 24VAC thermostat,
Heat Element configuration for Heat
And Compressor output for Cool,
2 fan speed and Economy mode

DOWNLOADS

ERT24-HC11-2S Specifications


The ERT24-HC11-2S is a fully featured, wall-mount thermostat suitable for commercial or residential applications.
It has Compressor output for Cool and Electrical Heater output for Heat and 2 fan speed.
The ERT24-HC11-2S is also an energy saving thermostat with Economy mode that can be activated when room is unoccupied.
Overall, the ERT24-HC11-2S is an easy to operate thermostat with a clear, easy to read LCD display.
Features
• Main supply- 24Vac
• Modes: Cool /Heat /Fan/Economy
• System configuration – Heat element in Heat and an output for compressor in Cool
• 2 fan speed control – Low, High
• 3 minute compressor delay to protect compressor
• Return Air External Sensor – Optional
• Alarm – dry contact
• F° or C° temperature display
• Economy mode – to be activated when room is unoccupied
• Energy Saving – Cost efficient, environmental friendly thermostat
• Large, easy to read display