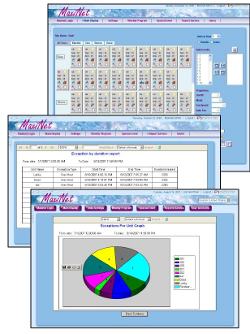 Maxinet is a Web based, mini B.M.S. software, for controlling small to medium size HVAC networks.
Maxinet allows remote access to the HVAC system from anywhere in the world. Administrators/Maintenance controllers can very easily view and manage the HVAC end-units from a remote location. With a simple click of the mouse, they can change operating mode, enter new temperature set points or turn on/off specific units/zones. Maxinet also offers cost effective capabilities and can ultimately save users 20-30% of overall electricity expenses.
Weekly Program, Special Event Tool, Cost & Usage reports and graphs are only some of the energy saving features of Maxinet.
The Maxinet is a generic SW suitable to any site without the need to configure the SW or load the units' parameters. The HVAC controllers are
automatically detected; the installation process is simple and can be done by any HVAC technician.

General Features:
HVAC Building Management System
Remote access to the B.M.S. via the internet & local intranet
User friendly, easy to operate program
Easy installation wizard – "Plug & Play"
One thermostat, One icon – clear view of each thermostat settings
Energy saving – reduces HVAC electricity expenses by 20%-30%
Numerous, cost effective, flexible 'weekly programs' for unit/zone
'Special Event Tool' – unique programs for holidays or special off days
Lock thermostats buttons or limit the set points for each unit separately or by groups/floors.
Multi-language interface
Controls also other energy consuming devices/systems via I/O card
MCU

Master Control Unit for stand alone applications or Maxinet Router for up to 60 thermostats.
The MCU is a Master Control Unit for stand-alone applications to control up to 60 thermostats. It is also applicable as a router for large network applications in Maxinet B.M.S. or just for simple divisions in installations such as floors or large buildings.
General Features:
View and change units settings in the network
Easy to change each unit settings:

Mode
Fan speeds
Set temperature
Set temperature limit
On/Off

Weekly Program for 7 days – when working as stand alone master
Emergency Weekly Program (EWP) , automatically activated when Maxinet software is down
Connect up to 12 MCUs to one Maxinet software