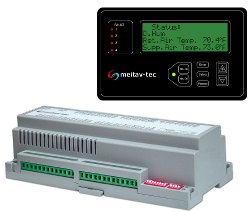 AHU Controller.
Meitav-tec CTU AHU Controller has been designed and configured to control Air Handling Unit (AHU) as per customer's specifications.
The CTU AHU is a "Plug & Play" controller, suitable for small/medium AHU without the need to modify/program the software for each application.
This high performance, reliable controller is locally operated by a panel display and communicates with the B.M.S by Modbus protocol.
General Features
Main supply: 24VAC, 110VAC or 230VAC
Outputs:

Cool Valve
Heat Valve
Fresh Air Damper
Internal Fan – proportional 0-10VDC

Inputs:

Return air
Supply air
Outdoors air

Digital inputs (Dry contact):

Duct High pressure
Duct Low pressure
Fire alarm
Smoke alarm

Easy connection to DIN Rail
MAC Address selection by DIP Switches

Note: other configurations and Features are available Per customer specifications