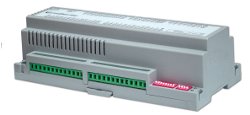 Main Controller for B.M.S.
The CTU is a smart, highly versatile controller; Meitav-tec has especially developed this product to meet the need for a controller, readily implemented for customer's unique HVAC application.
The CTU is a "Plug & Play" communicating controller – Does not require Technician Configuration when installed.
The CTU adaptability is an ideal solution for OEM's and Contractors who require "tailor made" controller configured according to their particular requirements at a
short delivery time and at an affordable price.
The CTU controller offers advanced communication protocol capabilities, such as Modbus or BACnet for B.M.S control and selectable power supplies 24VAC, 110VAC or 230VAC.
General Features
Main supply: 24VAC, 110VAC or 230VAC
RS-485 Communication port – Available in BACnet,
Modbus and proprietary Maxinet protocols.

CTU2500 Family – BACnet protocol (BTL Certified)
CTU4500 Family – Modbus protocol
CTU1800 Family – Maxinet proprietary protocol

Panel interface to various designs Wall/flush mount/IR panels – optional
Inputs

8 x Digital Inputs
2 x Analog inputs (0-10VDC)
3 x Temperature Sensor inputs 50K @ 77°F

Outputs

8 x Digital Outputs (24VAC 110VAC or 230VAC – depending on the supply voltage)
2 x Analog Outputs (0-10VDC)
2 x 3-wire 24VAC (Open-Common-Close)

12VDC power supply for occupancy sensor

Adjustable Set point limits for cooling and heating
Auto fan (fan on demand) – optional
Fan On/Auto-Fan in Cool/Heat – DIP switch selectable
Offset – for temperature reading adjustment
IR input
2 indication LEDs
MAC address 1-255 by DIP switch
4 DIP switches for configuration purposes
DIN rail connection
CE certified
Energy saving – cost effective, environmentally friendly controller