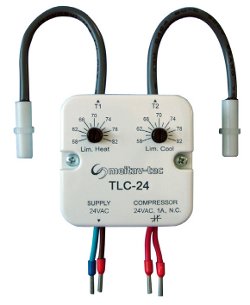 24VAC, Temperature Limit Controller for energy saving. The TLC will turn the compressor On/Off as per adjustable limits.

FIELD TESTS SHOWED A 25-40% ENERGY SAVING USING THE TLC-24
The TLC is a simple, yet efficient Temperature Limit Controller which offers substantial energy saving of Air Conditioning by limiting 'Set Temperature'.
The TLC is compact and easy to install at any existing Air Conditioning system by connecting the compressor relay line to the TLC, the TLC overrides the Air Conditioning control system and therefore can limit the Cool/Heat set points.
Limit Cool & Limit Heat values are configurable. The TLC will automatically re-operate the compressor according to these values.

General Features:
Adjustable Set point limits for cooling and heating using 2 manual knobs
Power supply – 24VAC for HVAC operation
1A, 24VAC dry contact for compressor relay
Random compressor delay Algorithm – jumper selectable
Easy, quick installation in any existing AC system
TLC installation requires no modification in the existing room devices
No change to user operation of the Air Conditioning system
Fast Return On Investment (ROI)
Wiring Diagram: