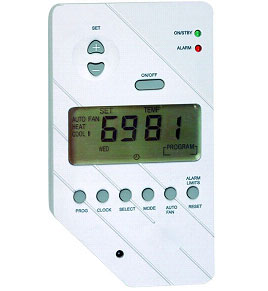 "Talking Thermostat" with telephone
and voice options, and 5-1-1 weekly
programmable, perfect for controlling
temperature in second home
DOWNLOADS

CEM-24-SUPER Specifications
Owner's Manual
Catalog Page
Quick Start Guide
The CEM-24-SUPER thermostat brings you the state of the art technology in thermostat with telephone and voice capabilities. It is the perfect choice for controlling temperature in your second home, cabin, condo or office from a remote location.
Want to Heat up or Cool down your vacation home before you arrive while you are on the way? Forgot to change mode and left home? Call your CEM-24-SUPER thermostat and receive verbal information on actual temperature and thermostat settings and command to raise or lower temperature, change mode or turn the system on or off.
This unique thermostat offers also 5-1-1 weekly programming, so together with its built-in telephone capability, alarm activation in case of reaching Cool /Heat limits and further remarkable qualities, the CEM-24-SUPER is the ultimate thermostat to give you peace of mind!
Features
• Main supply- 24Vac
• Telephone communication – Call thermostat and listen to information on temperature settings, or set mode and temperature from a remote location through telephone
• Alarm activated when temperature reaches pre-set high or low limit, or when fault input is active – indicated by red LED
• 5-1-1 weekly program
• Modes: Cool /Heat /Auto-Change-Over /Auto-fan /Fan-On
• Economy mode – to be activated when you leave home for any period of time
• Selectable system configuration- Heat-Cool / Heat Pump / Millivolt (dry contact)
• Up to 2 stages of Heat & 2 stages of Cool
• Heat output- Electric or Oil/Gas – jumper selectable
• Heat Pump in Cool /Heat – jumper selectable
• Internal / External sensor- jumper selectable
• General purpose output (e.g. boiler) – to be activated also by telephone for an unlimited time
• Large, easy to read display