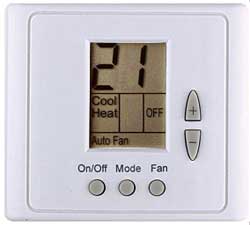 Wall mount, 24VAC thermostat,
for all Fan Coil Proportional
valve applications


The ETN-24-P/PD-FC-SUPER2 is a fully featured, advanced thermostat suitable for light commercial, residential or apartment systems to control a wide array of fan coil applications.
This superior thermostat offers various configurations according to customer's requirements, applicable by dip switches. It suggests 2 separate proportional outputs for Cool & Heat for 4-pipe Fan Coil systems, or a single proportional output for both Cool & Heat for 2-pipe systems. In addition, it has an option for 1, 2 or 3 fan speeds as well as an option for an Auto-change-over and an external sensor.
Suitable for Wholesalers to keep a stock on the shelf and supply the proper configuration according to customer's specifications.
All these qualities make the ETN-24-P/PD-FC-SUPER2 a superior, flexible solution for easy temperature control.
Features
• Wall mount, 24VAC thermostat
• 1 or 2 proportional outputs for cool & heat (0-10VDC or 2-10VDC) – dip switch selectable
• 1, 2 or 3 fan speeds – dip switch selectable
• Auto-change-over mode
• Auto-fan speed
• External sensor – optional
• Water temp. sensor (T2) – auto-change over sensor
• Energy saving – cost efficient, environmental friendly thermostat
• Celsius or Fahrenheit temperature scales – Dip switch selectable
• Set-point limits – 50°..86°C
• Daily, digital Timer – optimal when you are away or asleep
• Set point limits – 50..86°F (10°..30° C )
• Temp. offset – +9 °F
• IR option